I love coffee. I love coffee so much that I named my three dogs after coffee: Java, Cappuccino, and Mocha Latte. They have all gone on to the big coffee cup in the sky, but while they were here my mornings involved very good coffee and very furry company.
I wouldn't classify my love of coffee in the connoisseur category. In other words, you won't find me buying Kopi Luwak coffee, sold at Dean & Deluca for more than $600/lb. Never mind that the beans have been digested and pooped out by a civet, a cat-looking mammal native to tropical Asia. GROSS!
However, I do consider myself a purist. I drink my coffee strong and black. I don't like flavorings. Most importantly, I don't like bad coffee. 
With this in mind, you can imagine my despair when we ran out of coffee this weekend and were forced to borrow some from my dad, whose general philosophy about most things is "the cheaper the better." Well, cheap coffee is rarely good coffee. But that doesn't necessarily mean that expensive coffee is great coffee. I've found a few brands that I like with reasonable prices.

I recently stumbled across Phoenix Community Coffee Co., a roaster that does more than just make great coffee. The company began as a mission in 2010 "to provide relief for life transformation through the sale of excellent coffee" They buy their coffee beans straight from the growers, bypassing the whole "fair trade" red tape. This direct purchase arrangement results in daily wages over 300% more than other farms, according to their statistics. Read more about their Cycle of Relief philosophy that allows growers to not only pay their employees a livable wage but also participate in community relief programs.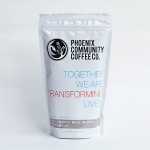 Phoenix sent me a few samples to try, and we scored all three excellent. I preferred the dark roast, but my husband liked the medium roast. Of course, he accessorizes his coffee with copious amounts of cream and sugar, so his opinion is suspect, at best. The decaf was also very good. I don't always buy decaf for various reasons, but I'm happy to find a good decaf that gives me the option to enjoy a relaxing cup of coffee in the evening and not worry about cleaning the house into the wee hours of the morning.
I normally like to buy local, and we actually have a few good roasters in our general area. But I really like to buy from companies that are trying to make a difference in the world. People, not corporations, that have more going on than just making a profit. Phoenix Community Coffee Co. fits this bill perfect. I am ordering more coffee from them this week. Orders of three bags or more get free shipping! Move over Amazon Prime!!
I love to share good finds with my friends, and I'm going to give away a pound of Phoenix coffee to one lucky coffee drinker. Leave a comment here or on Facebook telling me how you like your coffee and/or your favorite place to drink it. I will choose one winner by random drawing. The deadline to leave a comment is Monday, July 14, at midnight. That's one full week to get the word out about how awesome Phoenix Coffee is!! Can you help me by sharing the Facebook post and tweeting the contest, too?
Tweet this: Phoenix Coffee roasts great coffee and transforms lives. Enter contest to win free pound. http://wp.me/p26iz5-yL
Coffee lovers unite!
Georganne
P.S. My links to Phoenix Coffee are affiliate links, which means I will earn a commission on anything you purchase by using my links. You get the same great price and same great coffee, though. Thank you for supporting this blog by purchasing through my links.