You might be wondering why gut health is so important. It's a hot topic in the health blog-o-sphere. Well, in short, we think of our brains as being in control of our body, but actually current science is finding that our digestive system (gut) is really where everything concerning our health is centered.
This post contains affiliate links, which means I receive a percentage of the fee if you make a purchase using this link.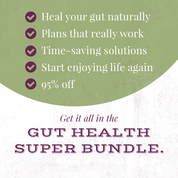 I'm not going to get into all the scholarly work here, but this neurologist thinks the gut "determines whether we're going to have a healthy brain or not, whether our brain is going to function well or not, and whether our brain is going to become diseased or not."
This U.S. News article quotes pathologist, Dr. James Versalovic, "It's really a partnership we all have [with intestinal bacteria]. You give them a place to live, and in return they help regulate your immune system, digest your food, produce some key nutrients and protect you from toxins and pathogens."
Did you catch the immune system comment? Could the key to so much of our illnesses be in the health of our gut? Well, I, for one, am not going to discount this possibility in my health journey.
As I said initially, I'm not in this to lose weight and look 20 again. I'm in it to regain my health and energy. That may result in weight loss, but losing weight for the sake of losing weight may not improve my health. And that would be a huge disappointment to me and my family. They want mama back, and I want to be there for them.
So, if it means incorporating new habits to support my gut health, I'm all in. And that's what The 2017 Gut Health Super Bundle is all about. Instead of spending days and weeks on Google, this package jump starts the journey with 16 eBooks and 5 eCourses, 44 videos, and 846 recipes for just $29.97.
I've ordered my bundle, and I'm particularly excited about taking Wardee Harmon's Lacto-Fermentation eCourse ($40 value). I've dabbled in fermenting, like kombucha and kefir, but that's about it. A few years ago, I made lacto-fermented pickles, and they were fabulous. Crunchy. Spicy (I used garlic and red pepper). I hope to get enough cucumbers in our garden this year to make them again.
Fermenting is an easy, efficient, and economical way to prepare and store food. It's also particularly healthy as it preserves the food's nutrients and adds a powerful punch of probiotics derived from the fermenting process. We'll talk about the importance of probiotics in our diets during our Journey, but if you want the nitty gritty of fermenting, buy the bundle now to get Wardee's eCourse, as well as Oh Lardy's Guide to Fermenting Fruits and Vegetables. They will both give you way more info than I'll get into on the blog.
There is just so much to this bundle. There's something for practically everyone. Got food allergies? There are at least three resources for cooking grain and dairy-free.
Buy yours now!

This post contains affiliate links, which means I receive a percentage of the fee if you make a purchase using this link.