When I shop, and especially when I Christmas shop, I search high and low for gifts that are unique and fit my recipient's personality.  I want the gift to really make them light up with excitement.  I'm not looking for expensive or big, but fun and out-of-the-ordinary.  My three tenets of gift shopping are unique, local, and family owned.  So, for Christmas this year, I'm going to feature gift ideas that fit at least two of my tenets.  I hope these gift ideas will help you find fun gifts for everyone on your Christmas list and will support family businesses. 
The holidays are the perfect time to get acquainted with local artists via craft fairs.  They are very popular with churches, schools, and other organizations.  Check your local papers for dates and locations.  Most craft fairs meet all three of my goals for gifts, and I love to get really great gifts while supporting someone's talent and family needs.
Street vendors are a branch of craft fairs.  I know several areas in Austin where they setup for booths during the holidays.  In addition to offering some great shopping, these street markets usually include family fun for the afternoon with balloon artists, face painting, and music.  There's always music in Austin.
Finally, there is Etsy, the online version of all things crafty and cute.  If you can't find it on Etsy, it probably hasn't been invented.  A previous spotlight, Polder's Old World Market, has a virtual store at Etsy where they sell their gorgeous kitchen wares.
While I'll always prefer local, the world is getting smaller and easier to connect to far away places.  And I'm not talking all those Made in China knock-offs.  There are a number of non-profits and ministries that are seeking to help impoverished areas by creating an online presence to sell their creations.  These are great organizations to support to make a difference in areas of the world we might never visit.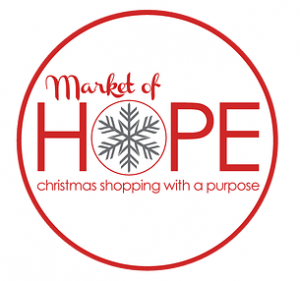 I'm participating in once such fair this weekend, as a matter of fact. If anyone is in the Central Texas area, please stop by and see me! Market of Hope is being sponsored by New Hope Community Church in Round Rock Saturday, March 23.  Get a jump start on socially responsible Christmas shopping at this community market day, where you will find unique handmade products from all over the world.  The non-profits and organizations featured at Market of Hope empower families and communities by providing education, training, finances, and restoration ministry to victims of human trafficking and economic slavery.  100% of Market of Hope purchases will go directly back into the featured non-profits and organizations.  I expect this to be an awesome experience, and I can't wait to see what all is there.
I love shopping craft fairs.  The originality and creativity of some people amaze me, and I get excited to help them showcase their talent and support their family.  So, make sure you check out your local craft fairs.  You might score some awesome gifts and encourage a budding artist at the same time.
Feel free to leave comments about craft fairs in your area.  I have readers all over the world, and one might be in your neck of the woods.
Georganne